Plate
Rolling
We are able to roll plates from 16ga to 1″ up to 10′ in length.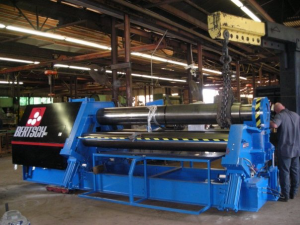 Structural Rolling
We are able to roll the following:
Angles to 6″ x 6″ x 5/8″

Bars to 1″ x 6″ hard way

Bars to 2″ x 12″ easy way

Channel to 8″ hard way

Channel to 15″ easy way

Beams to 12″ x 50lbs. easy way

1/2″ to 6″ pipes SCH 40
Shearing

We are able to shear the following:
Mild steel to 3/4″ x 20′

Stainless Steel to 1/2′ x 20′

Aluminum to 1″ x 20′

Other alloys to 20′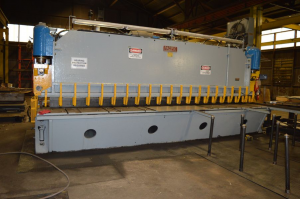 Forming

We have hydraulic press brakes with capabilities up to 1000 tons.
Cones and Transitions
We can create any type of cone or transition that you need. Some include:
Rectangular to rounds

Eccentric

Concentric

Fish mouths

Offset Centers
Machining

We are able to complete general milling and lathe work.
Drilling

We are able to drill up to 3 7/16″ diameter holes and tap up to 1 3/4″ threads on our radial arm drills. However, larger drilling and tapping can be done on our CNC mills depending on the size of the material.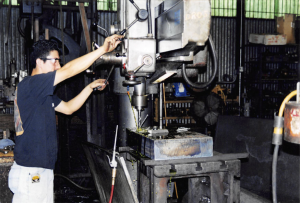 Sawing

We are able to saw and miter up to 24″ beams.
Welding

We are able to weld hot roll, stainless steel, and aluminum.